---




To contact us call: 815-895-8122 during business hours for fastest response. Or call and leave a message after business hours or e-mail us at mjfygifts@made
justforyougifts
.com




Calendars
Lang calendars, Great Quotations perpetual calendars, House Mouse calendars. Calendar holders in wire and wood.

Calligraphy
Framed Sayings for most occasions


Candles
Votives, tapers, jar candles and tarts, votive holders.
Bridgewater, Black Crow, Aloha Bay, Danica, and Mole Hollow
Findlay Grace wickless soy candles

Cards
Chase cards, Lang cards, Leanin' Tree cards, Dear Cards, Heartfelt Greetings (2/ $1.25), Tree-Free Greetings, Debbie Miller's photography cards. Hand-made cards - stamped and handsewn.


Ceramics
Painted ceramic angels, animals, seasonal including lighted christmas trees

Christmas Cards
Pat Richeter, House Mouse, and Tree Free.

Clothing
Baby bibs, burp pads, baby blankets
Clothing for adults - T-shirts, vests, sweat shirts.
Doll clothes - fit 18" dolls.
Goose clothes - 5 sizes. Geese also available during warm months.
Aprons - adult and children sizes
Raffia big hair dolls with changeable dresses.
Tote Bags
Collectibles
Cat's Meow buildings - featuring fifteen local buildings, DeKalb County Courthouse, Ellwood House, Egyptian Theatre, David Syme House, Rochelle High School, Rochelle Visitor's Center (first gas station on Lincoln Highway), the DeKalb Municipal Band in the Dee Palmer Band shell at Hopkins Park, the Sycamore Library, St. John's Church in Sycamore, Sycamore Theatre, Milan Township School, Mr. Pumpkin's House, Historic North Grove School, DeKalb County Animal Shelter, St. Mary's Church in DeKalb, Sycamore Train Station, and the Sycamore Tree.


Cross Stitch
Boxes, Framed Sayings, Pictures, bookmarks.


Dolls
Amish dolls and Crybabies.


Embroidery
Custom available. Baptism bibs, diaper covers, anniversary towels

Florals
Small to large centerpiece arrangements, wreathes, swags, seasonal arrangements
Foods
Aspen Mulling Spices - original, sugar-free, caramel apple, and cinnamon orange.
Ashby's Tea
Willow Creek Mill - pumpkin muffin, pancake and bread mixes.
Flavored Chai Tea Mixes
Cocoa Amore Cocoas
Red Barn: Cheesecake mixes
Coffee Masters flavored coffees
Slacks Jams, Jellies and Butters. Sugar-free Spreadable Fruit.
Pink, green, and orange hot cocoas.
Door County flavored coffees and hot cocoa
Secrets of the South dips and individual soups
Halladay's Dips and Cheesecake mixes
Microwave bags
Garden Flags by magnet
Works for all seasons



Hand thrown Pottery - bowls, cups, votive holders, vases, creamers

Jewelry
bead bracelets, pins by David Wright, bead earrings, rings, Glassart by Allie Cat Jewelry, pins and earrings by Nancy Neill.

Kitchen
Crochet topped towels, decorative towels, placemats, tablerunners, recipeboxes, pot holders,recipe books, recipe cards, painted trays, scrubbies, refrigerator magnets and plastic bag holders, Aprons, coasters, decorated corkboards


Lampshades
stenciled, painted, or fabric for small lamps.

Mailboxes -
painted like animals, and Mailwrap magnetic covers.

Military Service
Frames, signs, and memorabilia

Music -
Green Hill, North Star, John Smith and the Shenanigans, Jim Kanas, David Young, Dan Troxell

Name Cards,
Name puzzles, stools and coat racks


Painted pitchers, plates, votive cups, vases, glasses, oil/lotion dispensers, salt and pepper shakers, mail holders

Perfume
Annie Oakley scents for men and women.

Pets - Signs, stationary, figurines, pictures for dog and cat lovers, leash holders.

Quilts
Bed, baby blankets, lap, and wall hangings.

Soaps and lotions
Shepherd's Dairy sheep milk soaps
The Soap Bar soaps and solid lotions
Essential Journies soap, lotion, and lip balm

Souvenirs
Items for Sycamore, DeKalb, Genoa, Maple Park, Rochelle, and other small towns. Sycamore afghan

Stained and Blown Glass - Birds, animals, angels, and insects. Kitras inspirational glass balls.

Stationery
House Mouse and Pat Richter - note pads, memo pads, grocery pads, post-its
Christmas Cards created by House Mouse and Pat Richter
Memory books for children, mom, dad, grandpa, and grandma.
Chase notecards
Lang notecards
Leanin' Tree notecards


Toys
wooden airplanes, boats, trucks, trains, and more.


Wire - Plate holders, hooks, paper plate and napkin holders, votive holders, and towel holders.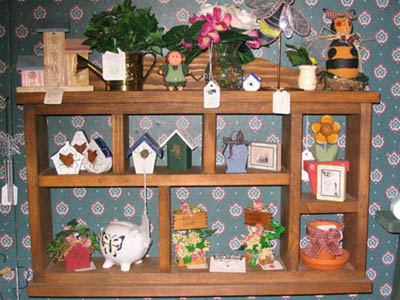 Wood Items
Shelves in oak and pine, quilt racks, benches, doll chairs, paper towel holders, child's desk, small cabinets and book shelves, painted signs, bird houses, garbage bins, potato/onion bins, magazine racks, seasonal items, golfball racks, spoon racks. Wood cutouts.