---
To contact us call: 815-895-8122 during business hours for fastest response. Or call and leave a message after business hours or e-mail us at mjfygifts@made
justforyougifts
.com



---
Are you looking for a gift that is unique and personalized? For home decorations that are exactly what you had in mind? Look no further -- Made Just for You Gifts is the answer to your needs.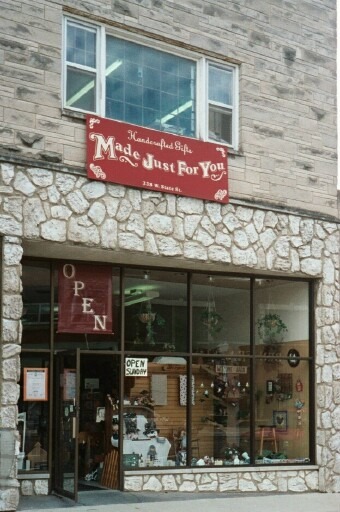 Florals, wood shelves and furniture, quilts, and bird houses are some of the locally hand crafted items you can find at Made Just For You Gifts.

We have baby bibs and decorated adult clothing. If your goose needs an outfit, we have a selection in five sizes. We also have clothes for stuffed bunnies and 18" dolls.
We have cake candles, votives, pillars, and tapers in many sizes and fragrances. Flavored cocoas, chai teas, coffee, and mulling spices are available to warm you up and ice teas and smoothie mixes can cool you off. We have a selection of potpourri to brighten your mood.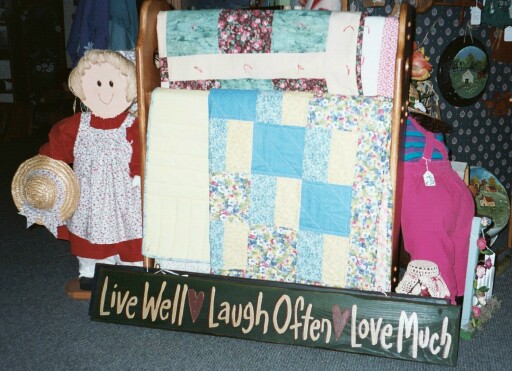 Touching calligraphy sayings can help express your feelings. Or a humorous sign can brighten someone's day.

For collectors we offer Cat's Meow and Brandywine Buildings. We have eight custom made pieces from Cat's Meow -- The DeKalb County Courthouse, the Ellwood House (also as an ornament), David Syme House, Rochelle High School, Rochelle Visitor's Center, Egyptian Theater and the DeKalb Municipal Band in the Dee Palmer Band shell at Hopkins Park. Our newest buildings are St. John's church in Sycamore which burned down in 2004 and the Sycamore Library. The band is the oldest continuous band in Illinois. We also offer in store incentives to collectors.

Our crafters create unique decorations for every holiday. And don't worry if you need something for Halloween in the middle of May. We have a selection available for most holidays. Just ask!

If what you find isn't the right color we can usually get it changed. Sometimes we can even get a different size. We can customize just for you.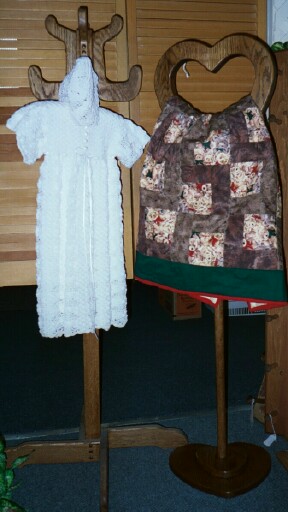 Once you've found the perfect item, we offer free gift wrap. We also offer a preferred customer program for our regular shoppers.

We are conveniently located in downtown Sycamore, Illinois right on Highway 64 at 338 W. State Street. We've been in the same location since 1994 and prior to that, we were just two doors to the west. Our phone number is 815-895-8122 and our e-mail address is mjfygifts@madejustforyougifts.com.